Is your transportation company ready for the future?
The transportation industry is unique in many ways. As an entrepreneur, you are constantly faced with new challenges. Specific regulations, conditions that are changing and the increasing demands of sustainability in the world are just a few examples.
In our industry group we have gathered specialists in auditing, taxation, accounting and consulting. We have worked with companies in the industry for several years and can support you and your company in all your challenges. We work with all kinds of transportation; on land, at sea and in the air.
The industry is facing new challenges
Whether you represent the management team, the board, or are responsible for finances, you can get advice from our specialists. We have worked with the industry for a long time and know both the regulations and the challenges. Therefore, we know that it is a unique industry, especially based on how the companies are structured. We can prepare decision-making documents that help you make confident strategic decisions so you can get the most out of your company.
Impact from other industries
How are transportation companies affected by economic activity and regulations in other industries? Since we have extensive experience in the with many property owners and construction companies as customers, we can support you with cross-competence. Transportation and logistics can also be affected by the Food and Beverage industry, where we also have a dedicated industry group.
The future
Are you satisfied with your situation as an owner today? Is profitability declining or is it time for an acquisition? Are there any thoughts on selling the company within a five-year period? Whatever your plan is, we can act as an advisor on your strategic issues.
Need help with questions regarding Transportation and Logistics?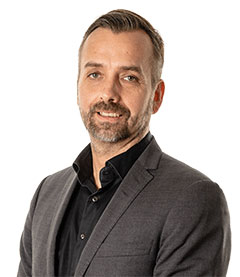 Get in touch
Head of Transportation and Logistics